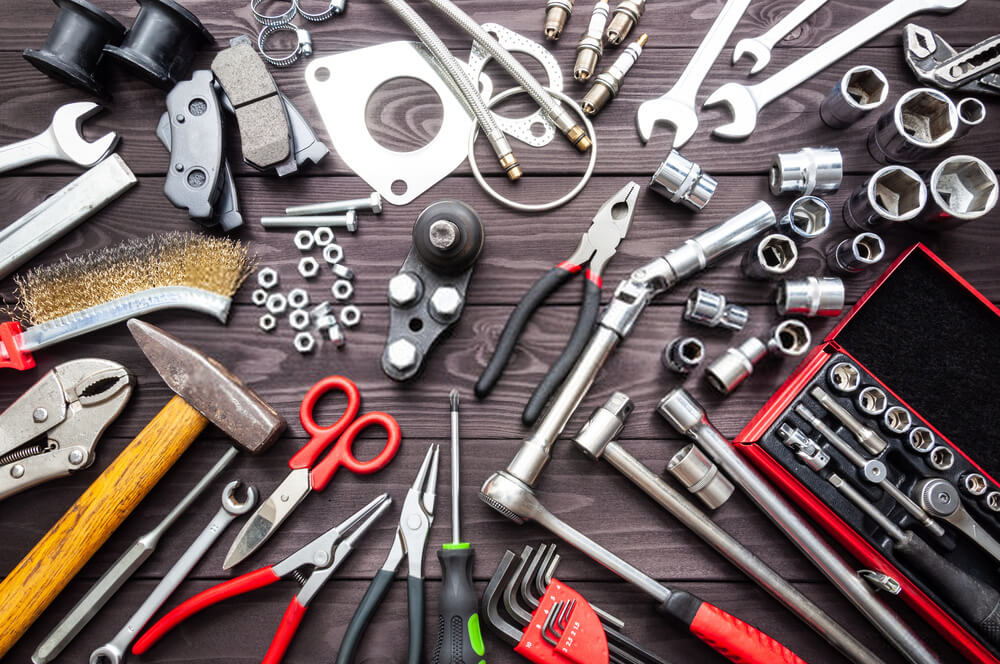 15 Automotive Tools Every DIY Mechanic Needs in His Tool Box
So if your car isn't running right and you're having trouble figuring out what the problem could be. Don't worry – nowadays for the DIY mechanic or even weekend tinkerer, there are plenty of resources online to help!
The biggest hurdle when it comes time to work on vehicles isn't poor patience or lack of knowledge but rather insufficient equipment. The right tools can make all the difference in getting a job done smoothly and properly.
But if you don't have them or are forced into making do with whatever is available, then you might get lucky and get it done half-properly. Chances are, a small job turns into a long tedious task, the issue becomes worse or nothing gets fixed at all.
Related Article: 12 Basic Tools and Toolkits For Car Maintenance
What Mechanic Tools Are Necessary?
When you're working in the garage, it can be hard to know what tools are actually necessary. You might think that a few basics like screwdrivers and pliers will do the trick but as soon as electrical wiring work comes into play or if sockets need to be loosened then your arsenal quickly becomes insufficient!
DIY car and bike repairing can be a hassle. With so many tools to choose from, it's easy for your typical toolbox or tool drawer at home to not have the correct tool.
Get some good old fashioned guidance on what you really need in order to make sure the work gets done quickly and efficiently! So read this list carefully, we've got 15 essential pieces of equipment no self-respecting mechanic should be without
While you're free to strip your wires with whatever you have on hand (hopefully not your teeth), having a specific tool will make things a lot easier. These multi-function stripper and crimper will cut cleanly with their plier-jaws and make tight crimps. It's automatic functionality makes pulling off the insulation as soon as it cuts, easy.
These Hex Allen wrenches are the perfect addition to your toolkit and those pesky hex bolts. They come in both SAE/Imperial and Metric sizes, so you'll always have one handy for whatever job comes up! Plus their compact size means they can easily store away when not being used too.
Screwdrivers are a ubiquitous household tool, and for good reason. If you find yourself in need of an extra screwdriver at the oddest moments, take a look at these sets that fit all sorts of types and sizes of screws and fasteners you would encounter in repairs. including those manufacturer tamper-proof types.
Stored in compact cases, with interchangeable driver bits and a magnetic driver handle, sometimes even ratcheting types for easier turning, they take up less room and offer more flexibility in choosing the best screwdriver for the job.
For those who want to get the best of everything, a set of high-quality pliers will be necessary for tough pulling, gripping and turning jobs. You can choose types for example needle nose, slip joint or groove joints depending on the task at hand. Most plier-sets come with the different types of pliers and sometimes include other handy tools nicely packed in a bag or case
A good set of mechanic's tools is a fantastic way to get you off on the right track when it comes time for repairs. They contain a whole set of tools and accessories necessary to get started in the car and bike repair eg. combination wrenches, ratchets, sockets, and much more. It just depends on your budget and your repair needs on how big a set you should choose. Further tools can be added later as your experience and specific repair or maintenance needs are required.
For any mechanic looking to get started, nothing beats the convenience of owning a good ratchet and socket set to rapidly undo those nuts and bolts. Ratchets come in handy sizes that allow you to tackle almost anything while sockets provide all sorts of necessities for various jobs around your garage or home repair shop. Always check first your required nut and bolt sizes and whether they are SAE/Imperial sizes (measured in inches) or Metric sizes (measured in millimetres).
Tap and Die sets are great for repairing, cleaning or creating new threads on nuts, bolts and screw fixing positions. If you have badly corroded threading that needs to be repaired with a tap size specific to your Tap die (the tool used in this process), look up the chart of drill sizes appropriate enough so as not to struggle when starting fresh!
Breaking thread lock with a heat gun is one of our favourite ways to break away stubborn bolts. We especially like it when we use the tool before removing any corrosion-prone hardware that may strip its head or snap under pressure. Whether you're heating an engine bay housing assembly on your car or  clearing frozen nuts free from their slots, there's a multitude of other DIY uses for Hot Air Guns
Car and bike repairs and maintenance involve a lot of low-down kneeling, so a pair of decent and comfortable knee pads will a great investment and you'll understand why people who use them, always recommend buying a pair!
Clean and power scrub away road dirt from cars and motorbikes, tyres and wheel rims with a set of scrubbing brush accessories. Simply fits into the chuck head of any suitable drill driver power tool (not supplied) for efficient electric motor powered scrubbing and brushing. Cleaning is no longer a tedious and gruelling task with tired backs, painful hands and exhaustion.
Quickly retrieve dropped metal tools, screws, bolts, fiddly components, keys, kitchen utensils and more with Magnetic LED Pick-Up & Mirror Tools. Reach awkward places, nooks and crannies, and with the telescopic mirror and LED light easily inspect underneath vehicles and workbenches, around engine parts, and inside drains, vents and equipment
Unfasten, remove and extract a wide range of stuck, rounded or painted sockets, bolts and fasteners with a Nut & Bolt Grip Extractor Socket Set. Designed to withstand the tremendous torque in gripping and loosening rusted, stripped, or frozen nuts and bolts without slipping or rounding. Especially useful for older vehicles and engines that have been exposed to environmental elements for a long time.
Triple-Square XZN Spline Socket Bits are designed to withstand tremendous amounts of torque - hence their popularity in automobile and vehicle engine use. These Triple-Square XZN Spline Socket Bit Sets has the sockets needed to install and remove a wide range of spline fasteners. Paired with a square drive tool, such as a socket wrench, deliver high levels of torque without slipping or rounding.
Sometimes just a spot of strong glue is needed to hold something down or make a good seal. A Hot Mini Glue Gun bonds, seals and glues in all adhesive tasks for fabric and item repairs and DIY fixing and maintenance. Create permanent fixes and seals in plastics, fabrics and metals
Take the tiredness and tedium out of constant screw-driving with a power drill driver. Easily undo stubborn fasteners and even do some drilling – just change out the bits! Drill drivers come in all sorts of sizes and power ratings from simple household screwdrivers to being rapid socket drivers. able to deal with stuck screws in the garage. For garage use, get a hefty drill driver that can be used for both power screw-driving and drilling.
Conclusion
With the above, you'll have every mechanic needs in their toolbox, so you can feel confident knowing that if something goes wrong with your vehicle, you'll be able to fix it quickly and easily. You may also want some speciality items like an oil filter remover kit or multimeters, however, the list above will get you started on your decision about which auto repair products will best suit your needs.
If you enjoyed this article then you will enjoy our article on 6 Best Portable Air Compressors For Your Home Garage