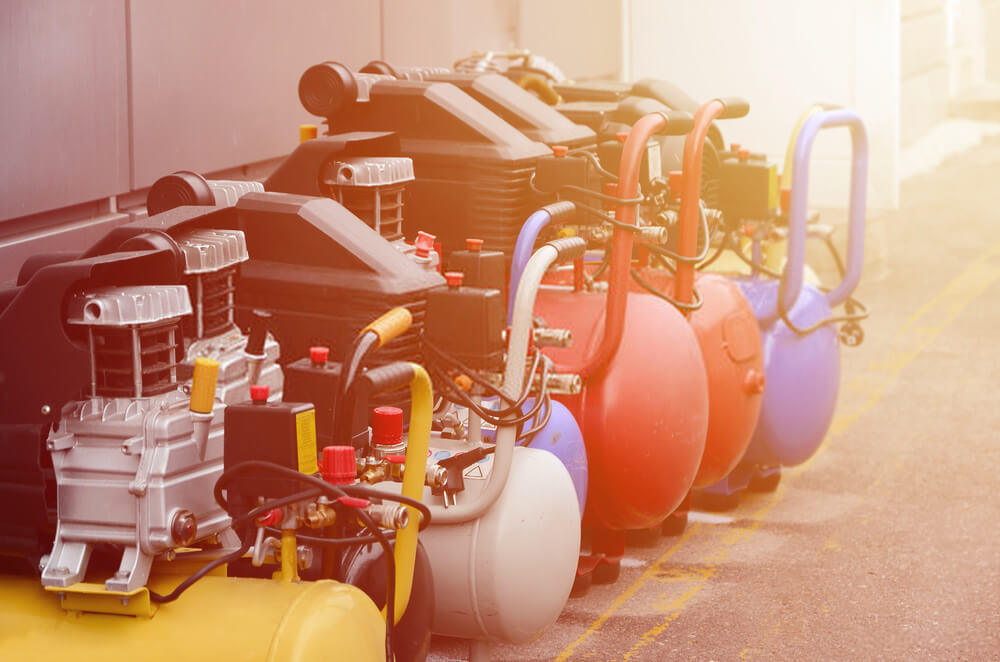 6 Best Portable Air Compressors For Your Home Garage
Before you go out and buy an air compressor, think about what you're going to use it for. Is it for your garage, to fill the tyres of big vehicles? Some of the equipment you'll use may require a lot of air requiring a big motor and input voltage.
If you're merely going to fill up the air in your car tyres, which a good 12v air compressor can accomplish, or if you're going to fill up a football, a pool float, or a home remodelling job, a tiny air compressor is ideal. Bigger projects may need the purchase of larger air compressors. Let's have a look at some of them so you can decide which air compressor to buy for your home garage.
The Advantages of Having an Air Compressor in the Garage at Home
Air compression, like other contemporary advancements, has made our lives more convenient. It has now become an essential piece of equipment in any residential garage. Even once you realise how important it is, you will wonder how you could live without one for long.
It helps you save time. Rather than wasting time at a gas station, you will be able to inflate tyres from the comfort of your garage. Whether you travel by bike, automobile, or wheelbarrow, an air compressor will make the trip to the long-distance gas station much easier. Simultaneously, it will ensure that the tyre is always filled with air.
Related Article: 12 Basic Tools and Toolkits For Car Maintenance
What Should I Look for When Buying an Air Compressor?
The size is the first thing you should look at when purchasing an air compressor. You should also consider the type of compressor, whether it is stationary or portable. Finally, look for supplementary features such as PSI ratings, LED displays and so on.
1. PSI (pounds per square inch)
The air pressure produced by a compressor is measured in PSI. It is the quantity produced by a compressor by forcing air across a 1-inch square surface. A small or medium compressor typically has a PSI of 135 to 150. 
Take note of the PSI because various brands report it differently. Keep in mind that the best "working" PSI is required. While the compressor is running, the real pressure level is recorded, although many models give maximum PSI when idle. It's an important consideration since the PSI contributes to quicker airflow.
2. CFM (Cubic Feet Per Minute)
This is the amount of air that comes out of your air compressor. The more your CFM, the more efficient your compressor and the better your air tools will perform. To calculate how much CFM you'll need for multiple connected tools, sum the CFM needs of all the air tools you'll be using at the same time and multiply by 30%. That's the CFM rating you'll require. 
3. What Is The Noise Level Of An Air Compressor?
Smaller ones are typically quieter, but larger ones may create quite a racket. It won't be an issue during the day, but just be aware that it may create the same noise as a speeding automobile. If you plan on using it at night, make sure it's in a corner of your garage.
4. What Is the Life Expectancy of an Air Compressor?
If you take proper care of your appliance, it can survive for years depending on how you use it. These appliances do not have a standard lifetime.
Top 6 Best Portable Compressors For Your Home Garage
Do you want the best air compressor for your garage at home? Choosing the perfect one for your requirements might be challenging because there are so many possibilities accessible nowadays, each with its own set of specifications and features.
In this list, we'll look at some air compressors for residential garages and how they differ from one another. Hopefully, at the conclusion, you will have gained enough knowledge to confidently select the best option for your requirements.
The Hi-Spec 12V Car Tire Air Pump Compressor with Digital Pressure Gauge is for routine vehicle tire topping-up and home air pump inflation: Car and motorbike tires, bicycle tires, sports balls, balloons, and inflatable pool toy. The air compressor motor provides steady full inflation going from 0 to 30PSI in a little under 6 minutes with a maximum supplied pressure is 150PSI.
Just connect into any typical car's 12V Cigarette Adaptor socket with its 2.5m/8.2ft power lead. The air hose itself gives an additional 0.5m/1.6ft for an actual reach of just over 3m/9.8ft. Both roll and pack neatly into back compartments built into the housing. With a digital display and button controls, simply tap in the required air pressure PSI, kg/cm², and kPa(BAR) value, sit back and just wait for the pump to automatically turn off 
This Porter-Cable air compressor is one of the best portable air compressors for home garages. One of the best features of this best air compressor is that it is quite compact, making it simple to transport and store. It will be ideal for filling the air in inflators or other light-duty duties if you are not interested in heavy-duty tasks.
This air compressor features a 6-gallon air tank with a maximum tank pressure of 150 PSI. The engine here works on 120 volts, so there's no need to worry about power. It starts effortlessly even in cold weather, and you can use it with an extension cord. It is reasonably priced, and you have the option of purchasing it with an accessory kit and a tyre gauge, which will save you money.
Senco is next on the list of best air compressors and is quite reasonably priced. Light and portable, it weighs only 20 pounds and features a rubber-grip handle to make it easy to transport. Its design also makes it incredibly steady on the ground, as it has four legs, and there is no vibration when it is going. The air tank capacity on this one is 1 gallon, which may mean needing to refill a couple of times during a project.
With a maximum output of 125psi, this air compressor can easily function on a low voltage of 115V. It is ideal for all lightweight chores such as air filling and nailing in the home garage since it does not generate a lot of noise and provides a quiet workplace. However, that it is not suggested if you wish to run continually or perform heavy-duty jobs. This gadget also comes with a useful one-year manufacturer's guarantee. 
This is a heavy-duty air compressor designed for sandblasting and other applications requiring a lot of power and a big 20gallon air tank capacity (smaller sizes are also available). The construction quality is incredibly solid and long-lasting. It has a huge cylindrical shape and despite its weight, its rubberized tyres and a handle make it simple to reposition. A strong motor provides airflow at a rate of 3.8 CFM at 90 PSI and 5.0 CFM at 40 PSI, with a maximum output of 135 PSI.
Features include an easily accessible drain valve, couplers that let two persons operate it at the same time, and two pressure gauges. Best of all, it comes with a two-year guarantee, which is uncommon in the industry.
The CRAFTSMAN Air Compressor offers excellent value for money. It contains many characteristics that should be included in more expensive air compressors for home usage and yet is still reasonably priced. This air compressor's 6-gallon storage tank maximizes storage and mobility. It's an oil-free air compressor with a long-lasting pump that requires little maintenance.
The nicest thing about this air compressor is that it starts effortlessly, even in cold weather. This feature, in particular, makes this compressor suitable for beginners and in inclement weather. Its engine is a touch loud with a maximum PSI of 150, but it comes with a one-year guarantee if there are any complaints.
This is a good alternative if you need a portable and lightweight oil-free air compressor for your home garage. This BOSTITCH Air Compressor has a maintenance-free pump that produces 2.6 SCFM for increased airflow. With a maximum air pressure of 150 PSI, any operator may run the tool for an extended period while recovering quickly.
If you are searching for an air compressor that provides a quiet working environment, its 78.5 DBA rating noise rating will suffice. Designed with a high-efficiency motor, it also incorporates a high flow regulator and couplers to improve air tool performance. Furthermore, this air compressor weighs only 29 pounds, making it easy to transport and store.
Related Article: DIY Air Compressor Reviews
Conclusion
The advantages of having an air compressor in the garage at home are endless. It's not just for professional mechanics anymore! With all that you can do with one, there is no reason to go without it.
If you don't have a compressor yet and need some help finding one or deciding which model would be best for your needs, feel free to ask us any questions about compressors below. We'd love to hear from you!
If you enjoyed this article then you will enjoy our article on: 10 Car Repairs You Can Do Yourself to Save Money!