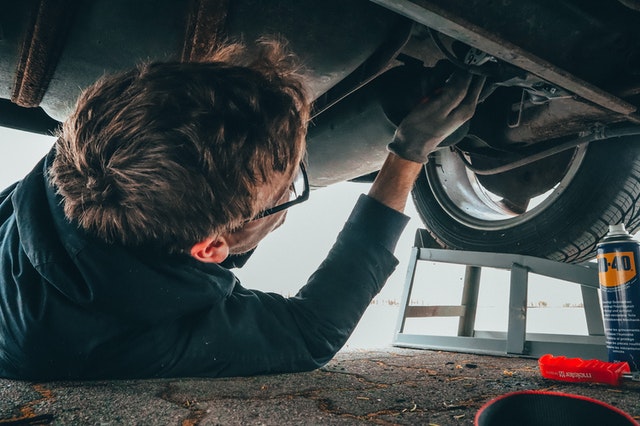 12 Basic Tools and Toolkits For Car Maintenance
Whether it's an old clunker of yours or a new flashy model, there are endless maintenance possibilities that could arise.
With the right tools  and a little auto mechanics knowledge, you could do all your car maintenance yourself and save big by not having to go to car repair shops. Not only will these tools help you maintain your car, but they can also come in handy during emergencies.
Here are 12 of the most basic tools and toolkits for car maintenance.
One of the most important tools for any auto mechanic is a good socket set. A standard socket set should include standard/SAE and metric sizes as well as 3/8 inch, 1/4", or even 1/2" drivers along with thin-walled sockets that are perfect when you need an extra delicate grip on tight jobs because they're so light!
Pliers and cutters are tools we find ourselves using quite frequently when working on a car. They are indispensable to a DIYer. You'll need these handy tools to work on and maintain electrical project within your car. To cover a broad range of maintenance activities get yourself  a plier set that includes the diagonal wire cutter, slip-joint, needle-nose and groove or arc-joint pliers.
The socket set is a great start to any mechanic's toolkit, but sometimes you will need an additional wrench for the job.  Sockets can't reach all nuts and bolts because they are in tight spaces. A combination wrench kit can come in handy when some nuts or bolts just won't fit into place without some extra heft behind it!
A screwdriver set is a must-have for anyone who does any sort of car and bike maintenance - you could even keep them around the house! Get an all-inclusive kit with different sized heads that give extra flexibility in fitting all types and sizes of screws and fasteners. The ratcheting driver handles make turning screws faster and easier.
Zip ties are an essential part of any mechanic's toolkit. They can be used to bundle cables and wires together during car maintenance, keep everything tidy while working on a vehicle. For added convenience buy lots of different sizes so you never run out when needed most.
Tire pressure is one of those things that you should check often, but it's easy to forget when life gets busy. If your tires are underinflated because they haven't been checked recently then this could lead to lower gas mileage as well as shorter lifespans for both tread wear. Analogue dial faced or digital gauges are best for accurate and reliable reading rather than the cheap stick-up types.
Duct tape is one of the most versatile tools in any car mechanic's toolkit. It can patch a myriad of ills from damaged bodywork after an accident to temporary emergency fixes on hoses and other parts, but it's also useful when you need it for something more than your vehicle--like fixing things around home or office!
Jumper cables are a much-needed tool for any car owner. A dead battery can be frustrating and deny you access to your vehicle, but with heavy-duty cables on-hand there is no need to worry about getting stranded and making it back home or to the nearest garage! Make sure the cables are thick with strong spring clamps on the ends.
If you own a car, then you must stock up on mechanic tools. And rather than buying items individually, you can purchase complete sets containing the most popularly used tools. A basic toolset will make sure you are always prepared with sockets, ratchet handles, wrenches, pliers and extensions that can be used on any essential job.
You need to clean and lubricate moving parts of your car, so you'll need a few liquid sprays. A rust penetrant can help you remove stubborn bolts and prevent future accumulation of rust. Brake cleaner is quick to use, making it perfect for cleaning any metal parts including brakes. Silicone lubricant eliminates squeaking while keeping friction at bay thanks to its ability not to attract dirt. 
To remove the really stubborn lug nuts on the wheels, then a breaker bar is called for. If you have one of those stuck bolts that just won't let go despite your best efforts to break them loose using a normal ratcheting wrench (which could damage it), then the breaker bar with its extended length  will give you extra leverage to loosen them 
DIY car maintenance is a messy endeavour, and making your vehicles exterior and interior stays clean and stain-free during repairs should be in mind. Latex gloves offer a great way to keep your hands clean while working on projects. They're also disposable, which means you don't need to worry about touching greasy or dirty materials with them - just throw them away after each use.
Conclusion
Gather these essential tools to save money on car repairs and feel confident fixing your vehicle by yourself. You can do simple maintenance tasks like changing a blown fuse or a burnt low beam light bulb, while some repairs should be left to the professionals. As you gain more experience more challenging fixes like replacing brake pads, filters and spark plugs will become easier.
Related Article: Different Types of DIY Rachets and Sockets