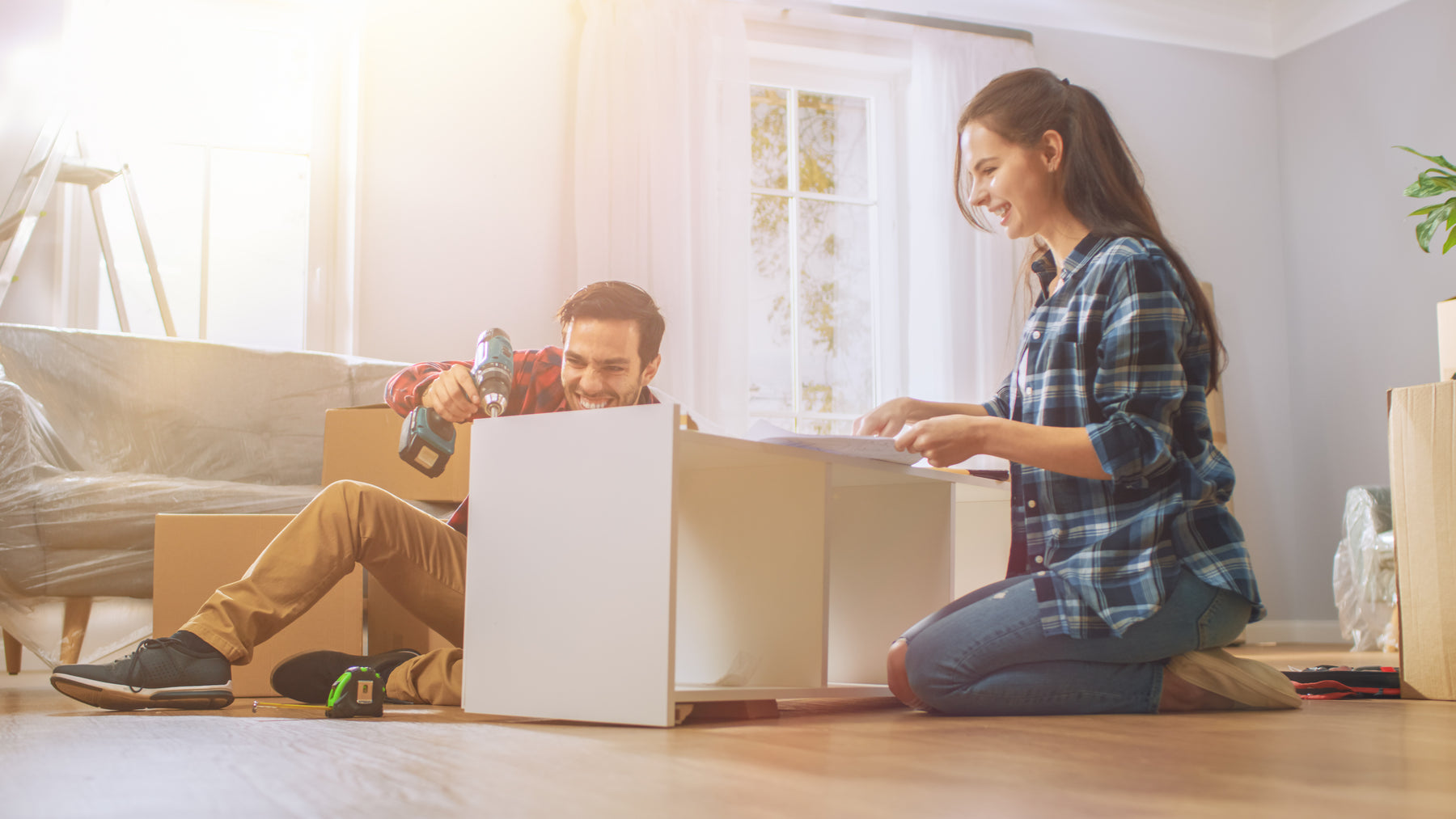 14 Tools and Kits That Every New Homeowner Should Own
Essential New Homeowner Tools
Home ownership is a dream for many people and can bring one enormous personal satisfaction.  However, it also comes with increased responsibilities.
Being a homeowner mea
ns that you are financially on the hook for all the repairs to your property, and it is not uncommon to think fondly about renting when it is time to fix the plumbing.
However, there is a way to offset some of the burdens of owning a home while increasing your sense of independence: owning a good set of tools.  While you may not be able to do all the work needed around a home, having a set of tools will let you fix things as they come up and keep expensive home repair services at bay.
So now we will present our list of essential homeowner tools; having most or all of these tools will greatly improve your ability to keep your home in tip-top shape.
14 Tools and Kits That Every New Homeowner Should Own
In order to buy the right tools as a new homeowner, some guidance is useful.  The tools we present below are for general repair people and do not require high levels of specific knowledge to use.
A powerful cordless drill is the most versatile power tool you can own.  It gives you the ability to build, repair, and perform countless tasks around a house.
Unless you have a prolonged heavy-duty drilling task in a single location, cordless is best for your drill.  Battery technology is terrific these days and not having to mess around with extension cords is a blessing.  Just make sure you get a charger and extra battery!
A cordless drill is of little value without a bit set.  A bit set contains all of the different ends for the drill that allow it to do whatever task you need it for.  Many cordless drills come with a good set of bits from new, so you may be able to check this item off of your list with the purchase of your drill.
To start, make sure you have a variety of screwdriver ends, drill bits, and small sockets.  Your kit will also need an adapter that is compatible with your drill's chuck.  A good set like this will allow you to use your drill to its full potential.
This is not your s simple paper stapler; instead, we are referring to a spring-assist handheld stapler that can power through carpet, cardboard, and other materials common around a home.
It is especially useful if you can find a stapler that will work with more than one kind of a staple.  This gives you the versatility to perform multiple functions, from installing Christmas lights to securing a loose piece of carpet.
If you are woodworking or have to glue something together, a set of clamps will allow you to press the material together while the glue sets.  If you have a workbench, clamps allow you to secure items to the bench while you work on them.
Spreaders and clamps often come together in a kit, so we recommend finding a kit with multiple sizes as opposing to buying them each individually.  This will save you money and give you a great starting set of equipment for the many different projects and repairs that can arise during homeownership.
A power sander is an essential tool for a homeowner as it allows you to finish projects and repairs like a professional.  We recommend starting with a palm sander because they are often relatively inexpensive and useful for many different materials and surfaces.
When you buy your sander, corded is usually okay since you normally use a sander in a single location for an extended period of time.  Make sure to buy a variety of different sandpaper types so you can work on different surfaces, like drywall, paint patches, and wood.
A hole saw is a saw shaped in a circle that allows you to use your drill to cut large holes through materials like wood, drywall, and plastic.  When buying hole saws, it is best to buy a kit with multiple sizes and an adaptor that will work with your drill.
A rotary tool is a handheld tool that can be used for a variety of drilling, cutting, and finishing tasks.  For example, a rotary tool with a sanding wheel is great for doing precision sanding work in hard-to-reach places.
As a new homeowner with few tools, we recommend buying a rotary tool that includes a kit full of attachments.  This way you will know that the bits you have will work with your tool; you can always buy more specialty bits in the future.
Being a homeowner means you will likely have cable, phone, and internet cables that are now your responsibility.  In order to save repair and installation costs, a network and cable repair kit will allow you to create your own custom-length cables and repair loose connections without having to pay a repairperson to come to your home.
An electric screwdriver may look a lot like a cordless drill, but these are different tools.  Electric screwdrivers are smaller, lighter, and turn at significantly slower speeds than drills.
The reason why an electrical screwdriver is useful even if you have a cordless drill is that it is often more convenient for lighter tasks and, when precision counts, is less likely to strip and over-torque screws and bolts.
An electric screwdriver in a convenient location with a small kit of drill bits and screwdriver ends makes small jobs like hanging pictures in drywall a breeze.
While not necessarily for repairs on your home, if you have a house you likely also own machines that will require repairs from time to time.  This is why we recommend you own some basic mechanic's tools.
A mechanic's toolset includes tools like wrenches, pliers, and sockets which are more for cars than they are for homes.  But if you have to replace vehicle lights, change the oil in a lawnmower, or other similar tasks you will appreciate having these types of tools around.
A pickup tool is a magnet on the end of a narrow telescopic pole that allows you to retrieve small metal items from hard-to-reach areas.  This is a very useful tool to have for your various projects, and while you are at it, get a magnetic tray to hold your screws and bits securely in one location.
To perform minor electrical repairs to vehicles and electronics, an all-in-one wire stripper and crimper tool allows you to easily prepare wire ends and fasten connections.
Wood chisels are important woodworking tools that allow you to precisely cut and finish wood and similar materials for a precise fit.  If you have baseboard and flooring work to do, you will appreciate a good set of chisels.
A general tool kit is the first place you should start when buying tools for your home.  These sets often include things like a hammer, screwdrivers, pliers, and other tools that are useful for many different projects.
The reason why we recommend you bundle a lot of these basic hand tools into a single kit is that it will save you money over buying them individually.  If you are new to homeownership and do not know a lot about tools, a general kit like this will allow you to get most of the basics covered in a single purchase.
Related Article: 10 Tools Every Woman Needs
Wrap-Up
Home ownership comes with a lot of extra stress if you are faced with a daunting list of projects and repairs.  Fortunately, you can alleviate a lot of this stress by taking on some of these projects yourself.  If you have a simple set of tools in your home, you will be able to do a surprisingly large number of homeowner repairs all by yourself.
While the list above may not contain all of the tools you will want for your unique combination of home and skills, it is extensive enough to provide a respectable number of tools for any homeowner.