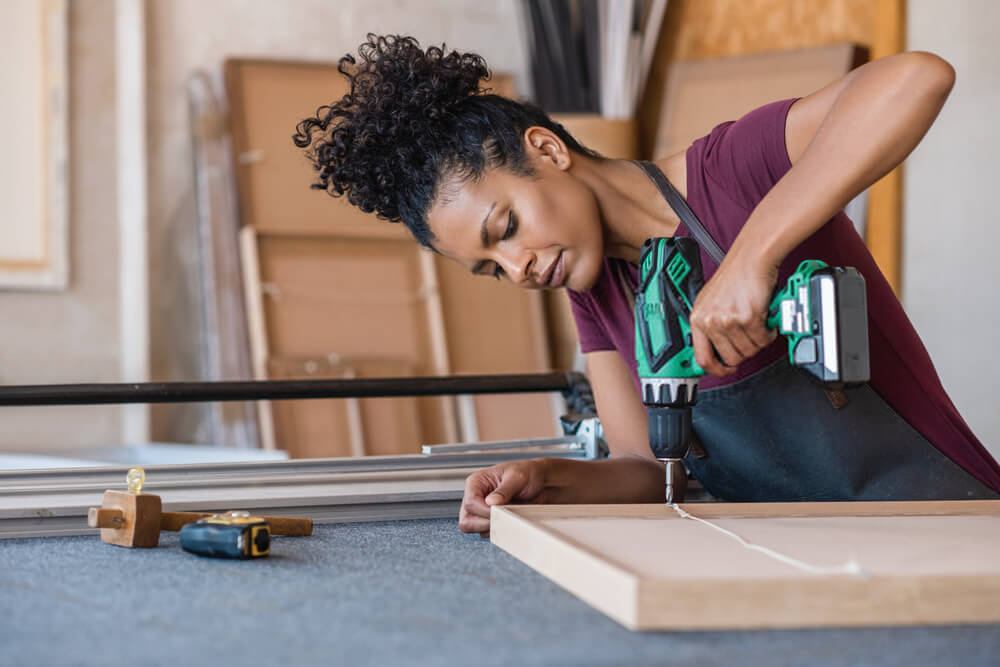 10 Tools Every Woman Needs in Her Toolbox
Tool ownership and use is the domain of no single type of person.  Unfortunately, many stereotypes exist for tool users and many types of tools are marketed aggressively at the male market.
We don't believe that tool use should be restricted to any particular group of people.  However, we also acknowledge that many environments where tool use is common are largely male-dominated.  As a result, we have written up a quick guide of tools women should consider buying and learning to use; learning to properly use tools is a great source of empowerment.
For the interested buyer, Hi-Spec offers a line of pink-colored tools.  Proceeds from the sale of these items goes towards breast cancer awareness. 
Most of the hand tools below can also be purchased in single kits complete with toolbox.
Here are some Beginner-Friendly woodworking Projects for Ladies to make and have fun.
1. Cordless Power Drill
Cordless power drills have become affordable, reliable, and extremely versatile.  We recommend making this the first power tool anyone buys.
When shopping for a cordless drill, look for lithium-ion batteries and purchase an extra battery and battery charge with the drill so that one battery can be charging while the other one is being used.
Related: 5 Factors To Consider Before Buying a Cordless Pink Drill
2. Drill Bit Kit
To get the most out of your drill, a well-stocked bit kit should be the next item on your list.  Bit kits typically contain many of the accessories needed so you can use your drill for a variety of tasks.
Many cordless drills can be purchased with an included bit kit.  If you need both of these items, buying them together is a great way to save some money.
3. Screwdriver Set
Screwdrivers come in handy for all kinds of building and repair jobs.  Every DIYer should make sure they have a comprehensive screwdriver kit around their home - and maybe another set in their vehicle.
Consider buying a screwdriver with multiple interchangeable bits in addition to a collection of single-piece screwdrivers.  A variety of handle lengths and sizes are important for different tasks.
4. Measuring Tape
Proper measurements are essential for many home improvement tasks such as hanging pictures and cutting materials for projects.  A measuring tape is an absolutely mandatory tool for any sort of DIYer.
Measuring tapes come in a variety of different lengths.  Unless you have specific needs in mind, anything up to about 15 feet is good enough for most people.
5. Hand Saw
A hand saw may not be important to someone who has a good collection of power tools.  However, a simple hand saw with interchangeable blades can be good enough when you don't have a regular need for a saw.
Make sure you get a saw with either a general-purpose blade or several blades for different materials.  This will give you the ability to make cuts in wood, plastic, and thin pieces of metal.
6. Adjustable Wrench
An adjustable wrench is a great multipurpose tool.  While it is not normally as effective as a set of wrenches in many different sizes, it can save you a lot of money and take on a variety of bolts.
7. Pliers Set

Pliers come in a variety of sizes, so plan on buying more than a single pair.  At a minimum, we recommend an adjustable long-handled pair, a needlenose pair, and a regular pair of slip joint pliers.
You might also want to consider a pair of lockjaw pliers.  These pliers are very useful for clamping tasks, and they are the sorts of tools that come in handy for a large number of tasks that are hard to anticipate before you see them.
8. PPE
Safety first!  PPE (personal protective equipment) is a must-have set of safety items that work to keep you safe while using your tools.
For the tools we have listed in this article, you should have eye protection, gloves, and hearing protection for when you're using your power drill.  If you are working with wood and drywall dust, add a respirator to your PPE shopping list.
9. Level
A level is a very useful tool for determining if a surface is straight and, well, level.
Most levels can also act as a straight edge and many also include markings for length which make them useful as a short ruler.  If you have to hang a picture or adjust a table leg, a level will help you ensure that you get the job done right.
10. Cordless Screwdriver
A cordless screwdriver looks a lot like a power drill.  Don't let the similar pistol-shapes fool you, though: they are very different machines.
A cordless screwdriver does not turn as fast as a power drill; nor does it have the same level of torque.  This is why it is a great tool for precision work.  You are unlikely to strip screws with a cordless screwdriver, so even if you already have a drill, a cordless screwdriver will be a welcome addition to your toolbox.
Summary
Regardless of your level of tool proficiency from childhood, anyone can learn to use tools with the right level of patience.  Of course, high-quality tools will be a necessary ingredient in this learning process so we hope that the above list of essential tools has been useful for deciding what to include in your toolbox.
There is no reason why tool use and ownership should be considered the domain of any particular type of person.  Men and women alike should learn to use tools as such skills are essential parts of a person's overall sense of independence and empowerment.
The Hi-Spec tool line includes a huge variety of tools for those planning projects related to home and automotive repair.  The great thing about Hi-Spec tools is that they are affordable and numerous.  As your skills and confidence grow, Hi-Spec makes it possible to continually add to your tool collection without breaking the bank or compromising in quality.