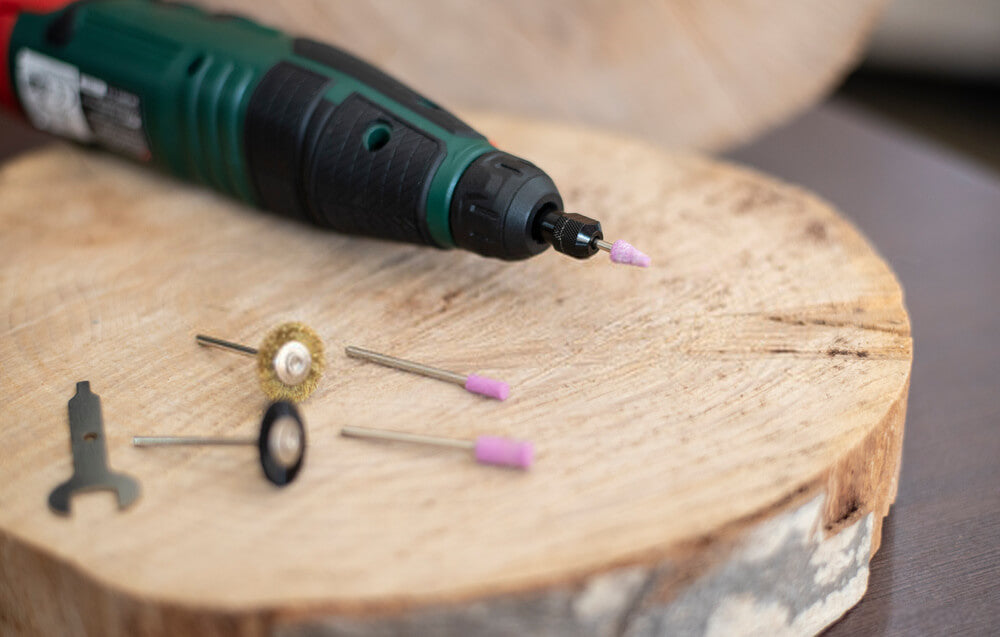 5 Small Rotary Tool Kits For DIY Maintenance and Repair
Rotary tools are one of the most useful power tools have in your workshop or studio, equipped with a variety of tips to polish, sand, cut, engrave, drill, sharpen, and much more. Cutting plastic PVC pipes to trimming your dog's nails are just a few of the possibilities. Rotary tools are sometimes sold in packages with hundreds of attachments
Rotary tools are an excellent addition to any house, garage, workshop, or creative area. You may utilise the tools for several applications by changing out the accessories and attachments. However, if it's for refined, regular, or repetitive work you'll want to invest in a high-quality, long-lasting tool. Sifting through the plethora of options may be exhausting. Our suggestions below will make the job a little simpler.
Related Article: 7 Essential Wood Carving Tools For Beginner DIYers | Wood Carving Tool Kits
What is a Rotary Tool?
The drill chuck-head of a rotary tool rotates at extremely fast speeds, much like a dentist's drill, and with a lot of turning torque. This makes them ideal for fine precision work that requires cutting, grinding, sanding, engraving and much more DIY tasks.
The larger multi-oscillating power tools are something you may have seen or used before and could be used for similar tasks as the rotary tool. However, their heads move at a rapid pace from side to side and so are more suited to bigger DIY projects, straight cuts and heavy-duty tasks such as tile laying.
The Power of a Rotary Tool
Rotary tools can be cordless or corded. Cordless variants have a rechargeable battery, allowing complete portability as long as the battery lasts. Of course, corded devices have less range, but they are lighter and simpler to handle without the weight of a lithium battery and you don't have to worry about power.
In general, the bigger the voltage and amperage of the rotary tool's motor, the faster the chuck head can rotate. That will give you a fair idea of how much turning torque is available for your project. Cordless rotary tools should have a battery capacity, measured in mAh, the bigger the better for battery operational endurance.
The Speed of a Rotary Tool
RPM stands for rotations per minute and is a speed measuring metric, and manufacturers measure RPM while the tool is spinning freely without resistance (an unloaded state). Most rotary tools usually go from 8000 to 35,000rpm. The rotary tool should have variable speeds that allow you to control it from its slowest speed up to its maximum speed – some fine detail work may not require the top speed.
Rotary Tool Accessories and Attachments
Most rotary tool kit set will include a selection of accessories to fit certain applications, as well as extension attachments for hard-to-reach places or slanted cuts. With the use of a chuck or locking mechanism, these accessories may be swapped out. A quick-changing system is especially important for craftspeople or woodworkers who often change attachments.
Cutting wheels, which can cut into wood or metal, are one of the most popular accessories you'll require. Sanding band pads are used to sand down woodwork and are available in a variety of grit levels. Carving and etching are done using diamond particle bits, while rust is removed with wire brush wheels that can access hard-to-reach areas.
Hundreds of accessories are available to fit practically any application. Check to determine whether your rotary tool can take attachments from third-party manufacturers. It'll make finding the correct parts and wheels a lot easier. 
The 5 Best Rotary Tool Kit Sets
For fine DIY work, precision craftwork and specialist hobbies, take on the Hi-Spec 130W Corded Rotary Power Tool Kit Sets. With its Dremel compatible bit accessories tool kit, cut, drill, engrave, grind, polish, sand, and trim across a wide range of materials and workpieces. A rearward thumb-wheel speed control allows for between 8,000 to 35,000rpm for precision speeds and time-saving operation.
The versatility of the Hi-Spec Rotary Power Tool Kit Sets is due to its supplied 120 piece accessory bits. Whatever the DIY repair or crafting task, there is a specialised bit for drilling, cutting, sanding and grinding. Simply swap them out and fix in at the chuck end.  Get going now on that project with its bit accessories neatly stored in a tray box. 
For a budget-friendly rotary kit, this one has some great features. It can be used on plastic, wood and metal with variable speeds from 8K - 30k rpm making it perfect for small jobs that need precision cutting at high temperatures like glass or ceramic material!
The flex shaft attachment holds up well under pressure which is always good when you're doing delicate work without causing any damage before cooling down enough to handle your tools again safely (especially since they get hot fairly quickly).
The cordless simplicity of the Dremel 8220 Variable Speed Cordless Rotary Tool Kit is ideal if you need a rotary tool that is lightweight and portable. Its lithium-ion battery-powered tool can run for 1.5 hours on a single charge, so you don't have to worry about finding a power outlet during tasks – just remember to charge it up before use!
Its small build and comfortable grip reduce hand strains. The tool comes with 28 accessories and two attachments, giving you a well-rounded kit for cutting, finishing, grinding, and sanding -  just a few of the things that this 12-Volt tool excels at. With two batteries and a two-year guarantee, this is also one of the more expensive cordless rotary tools available.
The DeWalt DW660 Cut-Out Rotary Tool is particularly intended for cutting, making it an excellent addition to any heavy-duty DIY. While rotary tools are incredibly versatile, consistently drilling perfect holes in professional jobs requires a little more skill. The DeWalt DW660 Cut-Out Rotary Tool is designed to provide consistent hole cuts. For construction work where you need to cut holes regularly, this rotary tool is a good choice.
A simple turn-on and bump-off switch allow easy powering up and down with the switch also being dust-sealed. Cutting power is provided by the 5-amp, 30,000 RPM motor in a slim easy-to-hold design. Despite its lack of versatility compared to other rotary tools, this specialised tool can make plunge cuts in wood, drywall, tile, and other materials.
With this collection of three Worx tools, you'll be ready to tackle some thorough work with an extra level of detail and personalization. Given their modern slimline design, all of these products are light, quiet, and simple to grasp.  Three tools are included:
A rotary tool with a variable speed range of 5,000 to 35,000 rpm
An angle grinder with a range of 5,000 to 20,000 rpm
A wood/metal crafting burning iron tool
Just connect them to to the supplied 20V battery pack. The Hub charging stand and its rechargeable 20V Power Share battery, both of which are included in this package, power every tool on the MAKERX platform. The Hub is the only portable 20V power system on the market for hobby and handicraft tools. You'll also get a storage bag and a Storage Case for its 58 piece bit accessories that you'll need to get started. 
Conclusion
In terms of value, performance, adaptability, and durability, the rotary tools we've picked are among the most popular. All of the tools have enough power and RPM rates to handle a variety of materials, such as grinding metal or sanding wood. Furthermore, all of these tools come with a fair selection of attachments, allowing you to get started utilising them in a variety of ways right away.
Whether you're searching for an inexpensive choice that will be your introduction to the rotary tool world or something made expressly to make hole cutting a snap, there's a tool available.
If you enjoyed this article then you will enjoy our article on 7 Basic Measuring and Layout Tools Every Serious DIY Needs