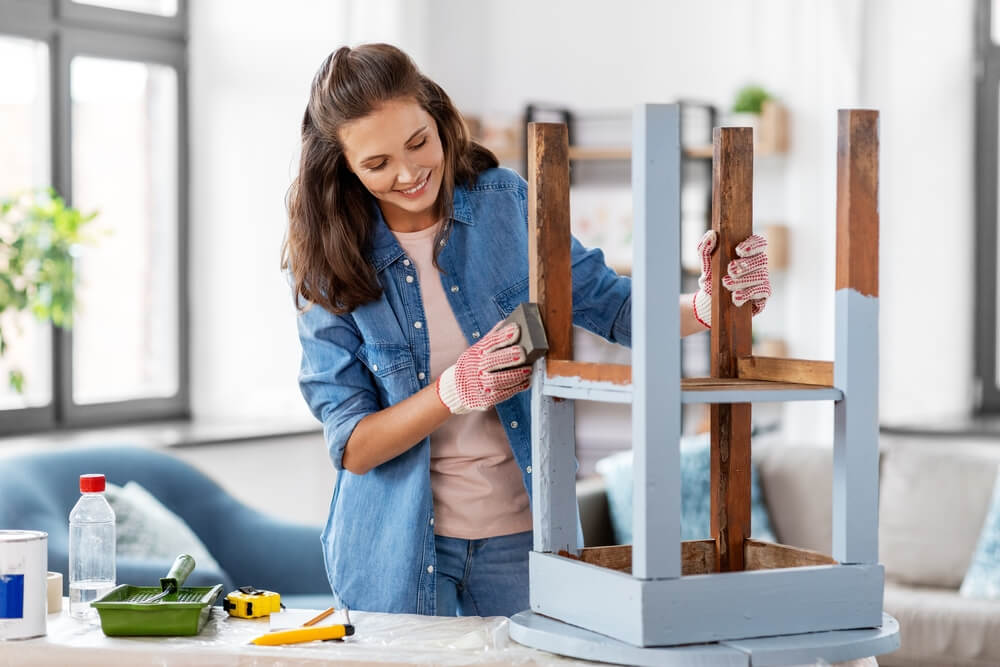 10 Beginner-Friendly DIY Projects for Ladies
There's a lot to love about woodworking projects - they can be both fun and functional. But for many people, the idea of taking up this hobby can be a little daunting. After all, where do you start? What are some easy projects for beginners?
Don't worry! We've got you covered. In this article, we will share 10 beginner-friendly DIY projects that are perfect for ladies. So whether you're new to woodworking or just looking for some new project ideas, read on for inspiration!
Curious as to who makes pink power tools for ladies? We have listed 5 top brands here
1. Wooden Jewelry Board
A wooden jewelry board is a perfect way to keep your jewelry organized and tangle-free. Not only does it look stylish on your dresser or vanity, but it also makes it easy to find what you're looking for as they are a great way to store and protect your jewelry. You can make it in a variety of shapes and sizes to suit your needs and they are easy to assemble. 
Start by staining your wooden material boards with a wood stain of your choice.

We recommend using a dark wood stain for a richer look. Use bungee cords to attach them in the shape of a triangle.

Make sure the cords are tight so that the boards don't move around.

Finally, use a 

picture hanging kit

 to hang your jewelry board on the wall.
2. Decorated Wooden Handles
It can be fun to decorate the handles of household wooden items like brooms, mops, and gardening tools. You can use different colors and materials to make them look pretty. This can add a touch of personality to your chores and make them more fun. Plus, it will make your cleaning and gardening supplies more stylish and colorful. 
You could just simply give them a good power sanding followed by a coat of varnish for a refreshed look.
 3. Leather and Wood Shelf
A hanging leather wood shelf is a good way to save money and to be useful. You will need a super long thick black belt and a couple of dark brown well-worn beauties. It is very easy to set up correctly and you can make it look great. 
The materials to create such a beautiful wood shelf are: 2 wood boards, 2-4 long leather belts, carpet tacks, a hammer, measuring tape, and a pencil. You can use different colors and materials to make them look pretty. This can add a touch of personality to your chores and make them more fun. 
4. Miniature Wooden Houses
Making miniature wooden houses is a fun and easy project that anyone can do. Girls and women love things that are miniature because they are generally seen as being more adorable and special. Additionally, these houses can be used as decorative items in any room in the house, and they make great gifts for special occasions. Your friends and loved ones are sure to be surprised and delighted if you give them one of these sweet little houses.
Start by selecting some balsa wood that is 2 cm wide. 

Cut the wood

 into desired shapes, then use a pencil, ruler, and sanding block to smooth the edges.

Paint the roof of the house with different colors, and see how they look together.

These sweet little houses are sure to add a touch of charm to any room in your home.
5. Wooden Lamp Holders
Making your own wooden lamp holders is a great way to personalize your home décor or to make unique gifts for friends and family. You can personalize them to match your own style and décor. They are easy and inexpensive to make in any size or shape you want. And they make great indoor or outdoor decorations to add a touch of light and style to any space.
 With a few simple supplies, you can create beautiful lamps that will brighten any space. Follow these steps to get started:
Choose the wood you want to use for your lamp holders.

Cut the wood into the desired shape and size.

Drill a hole

 in the center of each piece of wood.

Insert a lamp socket into each hole.
Screw in a light bulb. Now you have your very own wooden lamp holder! 
6. Wooden Book Ends
Wooden book ends are a great way to keep your books organized and in place. Not only do they provide a visual appeal, but they also help to keep the spine of your books from becoming damaged. By using wooden book ends, you can help to preserve the life of your books, as well as keep them looking nice on your shelves. 
In addition, wooden book ends can also help to add a bit of style to your home décor. Whether you choose to stain or paint them, the book ends made of wood can really make a statement in any room. 
7. Wooden Plant Hanging Boxes
Wooden Plant Hanging Boxes are decorative planters that add style and color to any setting. They are perfect for small flowers or potted herbs and can be made easily by recycling old boxes. You can also add some carving for decoration. These hanging boxes will add to the beauty of your garden and patio, and make for a refreshing look and environment.
 8. 

Wooden Bird House
Making your own wooden birdhouse is a great project for the whole family. It's also a great way to recycle some old wood that you might have lying around. Some birdhouses even have a perch on the front, so the birds can sit and watch the world go by. Once you've made the birdhouse, you can paint it any color you like or even decorate it with stickers. The sky's the limit when it comes to decorating your birdhouse.
Find a good drilling spot to hand your birdhouse and you're sure to attract some feathered friends to your garden. Just make sure to clean out the birdhouse regularly, so it stays in good condition and the birds have a comfortable place to nest.
9. Wooden Door Mat
There are many advantages to using wooden door mats. Firstly, they are long-lasting and easy to clean, meaning you can get chunks of dirt and mud off your footwear in no time, and it's easy to rinse and brush off compared to traditional hard fabric mats. Secondly, they can be made out of everyday materials, so you can recycle old wood or other materials to create your own unique door mat. Finally, they add a touch of personality to your home and can be customized with your favorite color or design.
10. Wooden Candle Holders
The best things about wooden candle holders are that they are very elegant, rustic, and beautiful. They can also help to change the mood within a blink of an eye and can create a much more relaxed and ambient atmosphere. 
This can be a fun project for a weekend, and the final product will be something that you can be proud of. All you need is a few pieces of wood, a saw, some sandpaper, and a few other basic tools. You can choose any shape or size that you want for your holders, and you can customize them however you please. The final result will be a beautiful and unique addition to your home décor.
Conclusion
There are many different beginner-friendly DIY projects that ladies can take on as a way to get creative and have some fun. These projects can be a great way to learn new skills, and they can also be a source of satisfaction when the project is completed. The ones we've listed here are just a few examples. We hope you will give one or more of them a try!