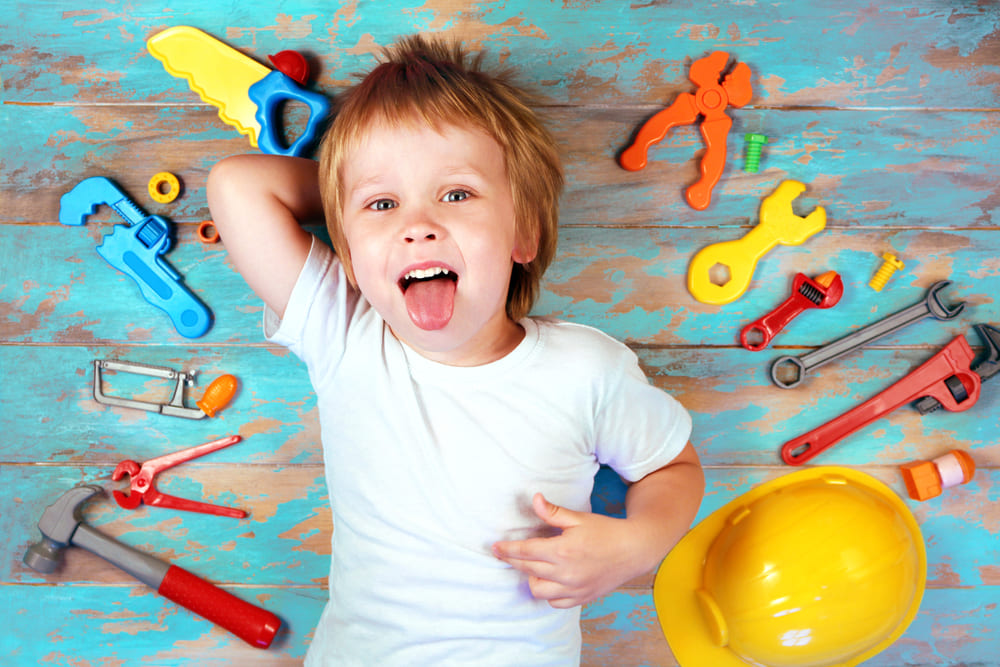 10 Best Metal Hand Tool Kits For Kids Under Age 9 (+ Factors To Consider)
When it comes to giving your youngster the skills they need to work on their DIY projects one day, teaching them how to use metal hand tools is a great place to start. But standard tools are often too heavy and dangerous for young children to use, which is why these metal tool kits for kids are so great. 
Tool sets for kids come in all shapes and sizes, including fully functioning tool kits designed for adolescents. No matter what your child's age, there's a perfect set of tools out there just waiting to be discovered.
Choosing the right metal hand tool set for your child can be a daunting task, but we're here to help. In this article, we will discuss the different factors you should consider when making your purchase, as well as recommend 10 of our favorite metal hand tool sets for kids under age 9.
Factors To Consider Before Buying a Kids Hand Tools Set
When looking for a kids' hand tools set, there are a few things to take into consideration.
Firstly, make sure that the toolset is appropriate for your child's age group and capabilities. If the toolset has complicated or unwieldy tools, it could be unsafe for use and the child may become frustrated. On the other hand, if the set's contents are too simple, the child may quickly become bored and tired of the set. 
Related: 12 Tools that Every Kid Should Learn to Use
Secondly, think about the type of tools in the set. Are they just toy tools, or do they have functionality similar to the tools you use yourself? If you're looking for a tool set that is similar to what you use, make sure to get one that is appropriate for your child's age group. 
Another thing to consider is the overall footprint of the toolset. How easy will it be to organize and store the tools after use? Some tool sets come in a carrying case which can help store and transport the tools. Others have smaller pieces that can be easily lost, so make sure to keep an eye on those.
Above all, any real metal tool set kits should always be used under responsible adult supervision. 
Best Hand Tool Sets For Kids
The Hi-Spec Kid's Blue Tool Kit Set with Tool Belt is perfect for boys and girls who want to engage in practical construction and building projects. It comes complete with a variety of real metal hand tools. The tool belt is brightly colored and adjustable, so youngsters can easily carry all tools and accessories wherever some DIY needs to be completed.
These are actual tools, hand-picked from adult DIY sets - even the adults would want to use them! They're perfect for young beginners. This toolkit has everything you need to get the job done, including a hammer, screwdriver, clamps, measuring tape, and carpenter's pencils.
The Hi-Spec Kid's Pink Tool Kit Set with a tool Bag is perfect for kids who want to build and fix their hardware projects. Give children a better chance at learning practical skills by engaging with them using actual real metal tools. With its durable tool bag, they'll never lose a tool again. The outside pocket is perfect for stashing your most-used tools so they're always within reach.
This set includes a child-size work apron with front pockets, splash-proof dust glasses, and a lightweight play hat. It's perfect for pretend construction or any other imaginative roleplaying!
The iBaseToy 45 pcs toddler tool toys are a perfect way to keep all of your child's favorite tools in one easy-to-access place. The fully functional and realistic kids' toolbox includes a battery-powered toy drill, realistic-looking hammer toy, screwdriver, blinkers, ruler, working overalls, wrench, screw, and 4 wood pieces for practice.
The 3 interchangeable drill bits and cutting saw head on this toy allow your little one to pretend to help with various projects around the house. It requires 2AA batteries to power the sound and movements.
This kids' tool set comes with a handy toolbox to keep everything organized. It includes 16 real tools made of metal and plastic, perfect for small hands. Plus, it has compartments for fasteners and accessories so you can always find what you need.
 If you have a youngster who is enthusiastic about helping with projects but isn't quite ready for adult-sized tools, this would be an excellent gift. The goggles and gloves that come with the product are a great way to show your youngster that safety always comes first when comes to home DIY projects.
These smaller versions, but functional versions of real tools, could be the perfect way to transition your child from their toy tools to borrowing yours. The 8-ounce claw hammer is small and light enough for a child's hand, but still able to drive nails or remove tacks.
The tape measure that comes with this set is an adult version, 12 feet long, and useful for various projects. This product comes with a durable carrying bag and a comfortable shoulder strap for easy transport by small youngsters.
This all-plastic pretend-play tool set includes a tool backpack, a power drill toy with 3 types of replaceable bits, a saw with a replaceable blade, and various other tools and parts. The power drill driver and screwdriver parts are perfect for kids who want to have some fun.
 The backpack is practical and lightweight, making it perfect for kids to wear on trips. With realistic-looking toy tools included, your child can pretend to be a handyman or woman! This product can be used as both a costume and a toy, making it perfect when lending a hand for any DIY home improvement occasion.
Another all-plastic toy tool set that is perfect for your little one who loves to play with tools. It includes everything they need, like safety goggles, a tape measure, hammer, nails, nuts and bolts, ratchet, channel lock pliers, and screwdriver.
 The accompanying plastic carrying case lets your child take the tools on the go, whether it's a road trip, camping trip, playground visit, or vacation. Furthermore, it encourages them to keep their tools together and off the floor
If you want to make your kids feel competent and grown-up, the REXBETI 25-piece young builder's tool set is perfect. It comes with real hand tools that will help them develop DIY skills while also having fun.
Included is a fabric storage bag, a claw hammer, pliers, ruler, scissors and wood pencils and more to help your child build something great. Plus, the kids' apron and safety goggles protect against mess and dust particles while the cut-resistant gloves prevents minor nicks and cuts.
The Black & Decker tool set is one of the best educational toys for preschoolers. It's an affordably priced, 23-piece kit made from high-quality plastic that includes eight tools, nails, "plastic wood," and nuts and bolts. All pieces fit perfectly into the accompanying clear plastic backpack.
Even though this set of tools is meant for 3 to 6-year-olds and can take some general use, if your child is tough on their toys, these may not be the best option as they could easily bend or snap.
The Stanley Jr. set includes all of the same metal tools as the regular Stanley set, but is sized down for smaller hands. Even the black and yellow rubberized handles have all of the same details, including texturing that is the signature of Stanley tools.
This mini carpentry set is perfect for your little ones. The ten-foot retractable tape measure, ergonomic Phillips screwdriver, and high-quality hammer are just like the real thing - only smaller. Give them a head start with their own toolset.
Final Thoughts
If you are looking for the best metal hand tool kit for your kids, consider the 10 options we provided. Each option has its own unique features that make it ideal for children of different ages. In addition to the age of your child, also consider their interests, skills, and learning level when making your decision. 
If you enjoyed this article, check out our 9 of the Best Woodworking Projects for Kids!