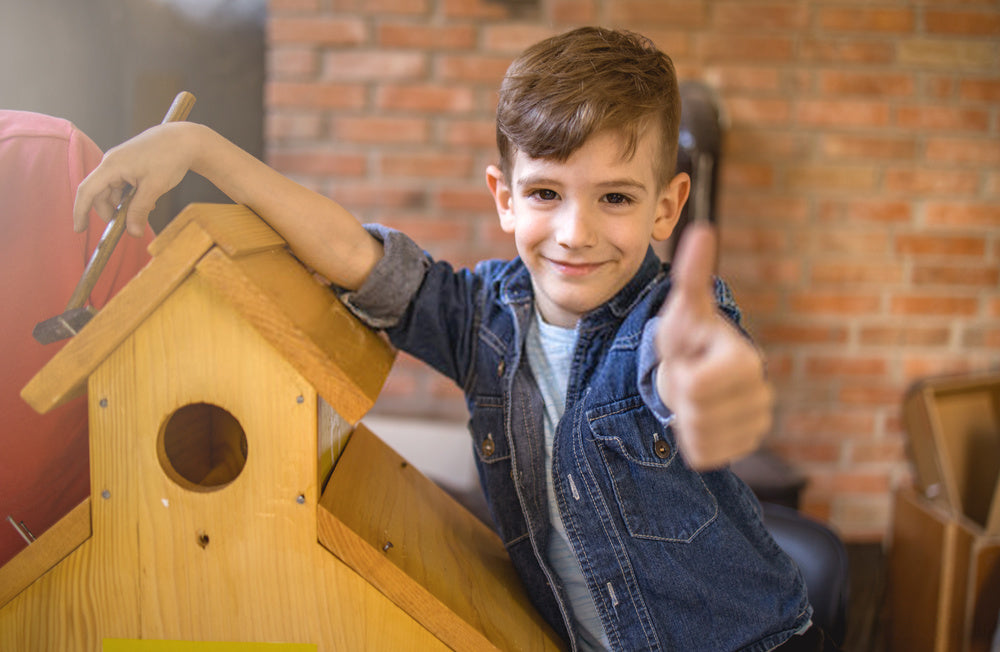 18 Christmas Woodworking Projects for Kids!
Woodworking projects present an excellent opportunity for children and adults to bond while everyone learns new skills.  However, it is important for the project to be appropriate for everyone involved.
The adult needs a reasonable level of proficiency in the task so they can also supervise the child's safety.  The project should also be easy enough to be accomplished without losing the interest of the child while resulting in a fun product that everyone can be proud of.
In the 18 sections below, we will describe different woodworking projects that meet the above criteria.  If you are looking for a fun activity for you and a special child, give one of these a shot!  And if you need woodworking tools, Hi-Spec has you covered.
1. Birdhouse
A birdhouse with a nest in it is a fantastic addition to any yard.  You and your kids will get to spend an entire summer watching a small family of birds grow, and just the birdhouse by itself will make a lovely addition to your property.
This is a project that can be done with minimal tools and risk depending on the kit.  We suggest finding a kit where most of the cutting is already done so you can gently ease into the world of woodworking with your kids.
2. Fun Coat Hanger
A custom-built set of coat hooks is a great addition to any child's room; it is made even more special if the child was involved in the construction process.
If you have access to some reclaimed wood and hooks, it is easy to build a hook set that can later be mounted to a wall.  Your child will enjoy choosing where to mount it and what type of hardware to use.
3. Picture Frame
How can you make a beautiful family picture even more special?  Mount it in a homemade picture frame!
Building a picture frame does not have to be overly complicated.  Once it is built, finishing and painting the frame will be a big part of the fun.
4. Popsicle Stick Decorative Fence
Are you and your child interested in woodworking but nervous about using tools or don't know where to start?  Try using simple popsicle sticks and glue to gauge everyone's unique levels of interest.
Many different items can be built of out popsicle sticks.  A decorative fence for a playhouse or to mount on a wall is a simple project that you can take on in an afternoon with little more than some wood glue and craft supplies.
5. Crayon Holder
Want a unique way to store your kids' crayons and other drawing tools?  A custom holder can easily be built out of a block of wood.
All you need is a sturdy block of wood and drill bits slightly larger than the diameter of the items you are building the holder for.  By drilling holes into the block of wood, you can insert the crayons to keep them organized and easily accessible.
6. Coasters
Coasters are a great project for kids to take on.  You can use a variety of wood pieces that are too small for other tasks, and each coaster can be uniquely built and decorated.
Unlike some of the other projects listed above, coasters are easy to move between homes and do not require any sort of installation.  A simple sander and set of wood chisels can turn all sorts of scrap wood pieces into fun coasters.
7. Toy Box
While this might be a more ambitious project, the end result will be worth the effort.  A custom-made toy box made by you and your kid has the potential to become a family heirloom.
You can teach your child many different DIY skills through this project, such as hammering nails, using a drill for screws, painting, measuring, and installing hardware like latches and hinges.  Plus, your child may be more interested in cleaning up their toys if they have a box of their own to use.
8. Bird Feeder
Whether you live in a house or apartment, a bird feeder is a great way to get some fun-to-watch wildlife close to a window.  Not only can a bird feeder be easy to build, but it can also bring hours of enjoyment while you and your kids watch different birds eat.
There are many different styles of bird feeders and each requires a different level of skills to build.  You can involve your child in the purchasing process or even use material you have on hand and your own imagination to build a one-of-a-kind custom feeder.
9. Hiking Stick
Want to teach your child safe knife handling skills?  A hand-carved hiking stick is a great way to teach these skills.
First, you need to find a suitable piece of wood.  Normally the trunk of a sapling or reasonably straight branch can do the job.  Next, you can use a carving knife to remove the bark and then even do some custom carving for a unique look.
Related: 7 Essential Wood Carving Tools For Beginner DIYers
10. Robot Companion
Making a wooden robot friend is such a simple enough concept that is such that your kid's imagination could run wild in making it. You can use popsicle sticks and small wooden blocks, glue, paint, and small googly eyes. Paint your robot with bright colors to make your robot look friendly and fun.
 Next, it's time to add the finishing touches. Glue on some small googly eyes and any other decorations you like. Add a few extra popsicle sticks to create arms and legs. Your robot buddy is now ready to play! 
11. 

Wooden Planter
Adding a Wooden Planter to your garden or yard is a great way to add some extra decoration, and it can also be useful for growing plants. A Wooden Planter is a great project for beginner carpenters because it is a relatively simple project that doesn't require a lot of complicated steps. 
 To use a wooden planter in the garden, you will need to find a spot where the planter can sit. You may need to dig a hole or use landscaping blocks to create a level surface for the planter. Once you have found a spot for the planter, you can start planting flowers or vegetables in it. Be sure to water the plants regularly and fertilize them as needed.
12. Height Ruler
A Wooden Height Ruler at home is a fun carpentry woodworking project for kids. It is simple to make and easy to embellish. Plus, you don't have to mark your walls to track your child's height!
 You will need a large piece of lumber, a measuring tape, and a permanent marker to make this ruler. Once you finish it, you can proudly display it in your living room for all your friends and family to see. 
 13. 

Wooden Toolbox
A wooden toolbox is a great woodworking or carpentry project for kids because it teaches them how to use wood glue to create strong joints. It also teaches them how to measure and make angled cuts. These skills are essential for any woodworking or carpentry project.
 The toolbox can be used to carry woodworking tools or to store produce in the kitchen. It is a versatile project that can be completed any time of year.
 14. 

Balance Board
Making a wooden balance board is a more advanced woodworking or carpentry project for kids because it teaches them how to use power tools safely. It's also a fun project that they can do with friends or family, and it results in a cool piece of furniture that they can use to practice their balance skills. 
 Plus, it's a relatively cheap and straightforward project to make, so it's perfect for kids who are just getting into woodworking or carpentry. Just make sure to get the dimensions of the board right so that it's properly balanced, and you're good to go!
 15. 

Walking Blocks
(instructables)
One great project for kids is to make walking blocks. This is a simple project that can be completed quickly, and it's a lot of fun to play with.
 Making wooden walking blocks is also a great exercise for kids. It helps them to develop strength and coordination, and it's a lot of fun to play with. So if you're looking for a fun woodworking project that your kids will enjoy, consider making walking blocks.
16. 

Wooden Ruler Basket
Your kids can quickly make a ruler basket with a few rulers and some scrap wood. They may add as many rulers as they need to build a larger alternative for whatever their storage requirements may be. They can personalize it with their designs and decorations. 
 It's a good way to recycle old household items into something useful. Plus, it's a great way to teach kids the importance of organizing and decluttering their space.
17. 

Family Home Signs
A Family Home Sign is a fun way for children to learn woodworking skills. You can use scrap wood that you have around the houses. With a saw, drill, and some nails, you can create a beautiful sign for your home with your family's name on it. 
 You can either come up with a design on your own or look online for inspiration. Allow your kids to help you with this project. They will be excited to see their handiwork displayed in your home.
18. 

Wood Sculptures
Designing a wooden sculpture can be a fun way for children to learn woodworking skills. They can use their imagination to come up with all kinds of designs. It also helps them to practice using different tools and techniques.
 The more time they spend on it, the more detailed their sculpture will be. They can also use different colors to make it look more beautiful. This also teaches about how using different colors can be combined to create new and exciting shades.
Wrapping Up
Woodworking a great hobby in which to involve your kids.  Not only will the time spent on these projects produce wonderful memories, but you will also teach your kids valuable DIY skills that will serve them well for the rest of their lives.
There are many different tools children can learn to safely use; check out our article on the subject for more ideas!