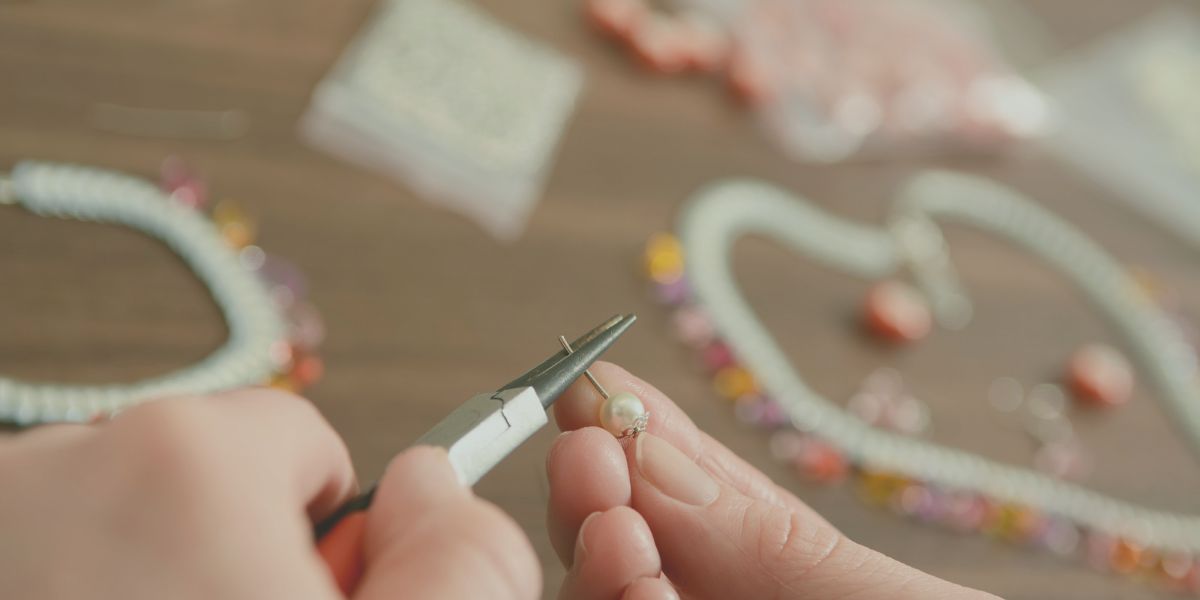 20 DIY Jewellery Making Ideas for Unique and Personalized Accessories
 Crafting your own jewellery allows you to express your individual style while also creating unique accessories that perfectly suit your taste. 
Whether you're a hobbyist, a crafts person, or a DIY enthusiast, this guide will provide you with 20 DIY jewellery making ideas that range from beginner to expert level. Let's dive in and explore these creative ideas.
Related Article: 10 Home DIY Essential Tasks
Table of Contents
String Bead Bracelets 

Wire Wrapped Rings 

Leather Earrings 

Polymer Clay Charms 

Braided Cord Necklaces 

Resin Pendants 

Beaded Anklets 

Macramé Bracelets 

Hammered Metal Earrings 

Wooden Bead Necklaces 

Textile Brooches 

Felted Wool Earrings 

Crocheted Wire Necklaces 

Embroidered Pendants 

Loom Beaded Bracelets 

Enamel Pin Badges 

Recycled Material Earrings 

Hand Painted Bangles 

Stamped Metal Bracelets 

Etched Glass Pendants

 Essential DIY Tools for Jewelry Making

Conclusion
1. String Bead Bracelets
For beginners, string bead bracelets are an excellent starting point. These bracelets require minimal supplies: a string (nylon or elastic), beads of choice, and a clasp. Select beads that resonate with your style, thread them onto the string, secure with a clasp, and voila! You have a personalized bracelet.
2. Wire Wrapped Rings
Wire wrapped rings are a step up in difficulty, but still manageable for most. Start by selecting a gemstone or bead, then wrap it securely with wire. Experiment with different wire designs to create a piece that is truly one-of-a-kind.
3. Leather Earrings
For those who love a rustic look, leather earrings are a great project. Cut leather into desired shapes, add hole punches, and attach earring hooks. You can leave the leather plain or embellish it with paint or stamps.
4. Polymer Clay Charms
Polymer clay charms allow for a wide range of creativity. Shape the clay, bake it, and once it's cooled, paint or varnish it. Attach a jump ring and chain to create a charming necklace or bracelet.
5. Braided Cord Necklaces
Braided cord necklaces offer a minimalist, chic aesthetic. Choose three or more strands of cord, braid them together, and add a clasp. For added interest, incorporate beads or charms into the braid.
6. Resin Pendants
Resin pendants make for beautiful, eye-catching pieces. Mix resin and hardener, pour into a mold, and add colors or items like flowers or glitter. Once hardened, attach a bail and chain.
7. Beaded Anklets
Beaded anklets are fun and fashionable, especially for summer. Similar to string bead bracelets, simply thread your chosen beads onto a string, but measure it for your ankle instead.
8. Macramé Bracelets
Macramé bracelets use knotting techniques to create intricate designs. Choose a pattern, cut cords to the appropriate length, and start knotting. Add beads or charms for added personality.
9. Hammered Metal Earrings
These earrings require some specialized tools, like a jeweler's hammer and anvil. Cut metal into desired shape, hammer for texture, and attach earring hooks. The result is a pair of stylish, modern earrings.
10. Wooden Bead Necklaces
Wooden bead necklaces offer a natural, boho vibe. Choose beads of varying sizes and shapes, string them onto a cord, and secure with a clasp. Consider painting or staining the beads for a customized look.
11. Textile Brooches
Textile brooches allow for a lot of creativity. Utilize various fabrics, buttons, and beads to create unique designs. Sew or glue elements together, then attach a brooch pin.
12. Felted Wool Earrings
Felted wool earrings are lightweight and colorful. Roll wool roving into balls, felt it, and attach earring hooks. Experiment with different colors and sizes for a variety of looks.
13. Crocheted Wire Necklaces
This project combines crochet and jewelry making. Use thin wire and a crochet hook to create intricate designs. Add beads or gemstones for an extra touch of glamour.
14. Embroidered Pendants
Embroidered pendants bring traditional craft into the realm of jewelry. Choose a small embroidery hoop, create a design, and stitch it. Attach a chain for a charmingly vintage necklace.
15. Loom Beaded Bracelets
Loom beaded bracelets require some patience but yield stunning results. Set up a bead loom, choose a pattern, and start weaving. The result is a detailed, vibrant bracelet.
16. Enamel Pin Badges
Enamel pin badges are trendy and versatile. Sketch a design, etch it onto a metal plate, and fill with enamel paint. Once hardened, attach a pin back.
17. Recycled Material Earrings
These earrings are eco-friendly and unique. Use materials like bottle caps, paper, or fabric scraps. Cut into desired shapes, embellish if desired, and attach earring hooks.
18. Hand Painted Bangles
Hand painted bangles are a canvas for your creativity. Choose wooden or plastic bangles and paint them with acrylics. Add patterns, landscapes, abstract designs - the sky's the limit!
19. Stamped Metal Bracelets
Stamped metal bracelets are personal and meaningful. Cut metal strips, stamp words or designs, and shape into a cuff. This makes for a precious gift or keepsake.
20. Etched Glass Pendants
Etched glass pendants are elegant and sophisticated. Choose a glass piece, apply an etching cream with your design, and rinse. Attach a bail and chain for a stunning necklace.
Related Article: 10 DIY Crafts for a Festive Home
Essential DIY Tools for Jewellery Making
Having the right tools at your disposal can make the process of DIY jewelry making more efficient and enjoyable. From basic hand tools to more specialized equipment like wire jigs and tumblers, this section covers all the essentials you'll need.
1. Basic Hand Tools
Pliers:

There are several types of pliers used in jewelry making. Chain-nose pliers are great for opening and closing jump rings, while round-nose pliers are ideal for creating loops and curves. Flat-nose pliers have a wider surface, perfect for gripping larger pieces.

Cutters: A good pair of wire cutters is essential for cutting metal wires, headpins, and eye pins. Opt for a flush cutter for a straight, clean cut.
Tweezers:

Tweezers come in handy for picking up and placing small beads or findings. Choose a pair with a fine point for precision.
2. Wire Working Tools
Wire Jig:

A wire jig allows you to create consistent shapes and intricate designs with wire. It consists of a board with holes and movable pegs.

Mandrel:

A mandrel is a cylindrical tool used for shaping and sizing rings, bracelets, or forming wire loops.

Wire Straightener:

This tool is used to straighten bent or kinked wire. It's especially useful when you're reusing wire or working with longer lengths.
3. Beading Tools
Bead Board:

A bead board has compartments for organizing beads and channels for laying out designs. It's invaluable for planning the design and length of necklaces and bracelets.

Bead Reamer:

A bead reamer is used to enlarge or smooth out the holes in beads. This tool is particularly useful when working with semi-precious stone beads, which can have irregular hole sizes.

Crimping Tool:

A crimping tool is used to secure crimp beads or tubes against strings or wires. It ensures your strung beads stay in place.
4. Soldering Tools
Torch:

A jeweler's torch is used to heat and solder pieces of metal together. It's essential for making metal jewelry.

Pickle Pot:

After soldering, metal often has a residue called flux, which can be removed using a pickle pot. This tool safely contains the pickling solution used to clean your pieces.

Flux:

Flux is a chemical cleaning agent that aids in the soldering process by preventing oxidation.
5. Polishing Tools
Polishing Cloth:

A polishing cloth is used to clean and polish finished jewelry pieces. It helps to remove tarnish and restore shine.

Tumbler:

A tumbler is a machine that polishes jewelry by tumbling it with abrasive media. It saves time and effort, especially when polishing many pieces at once.

Files:

Files are used to smooth rough edges on metal jewelry. They come in various shapes and sizes for different tasks.
Related Article: 10 DIY Tips for a Successful Project
Conclusion
There are countless ways to create unique and personalized accessories through DIY jewelry making. Whether you're a novice or a seasoned craftsman, there's a project for you in this list. 
From string bead bracelets to etched glass pendants, these 20 ideas offer a wealth of inspiration. Remember, the key to successful DIY jewellery making is creativity, patience, and a willingness to experiment.